Our partnership with Constant Contact has become official! If you would like to try them out, use this link which will offer a free trial for 60 days, and then after the trial period you will get a 10% discount!
https://go.constantcontact.com/signup.jsp?pn=csaware
In an effort to fulfill vendor requests, we have now officially integrated with Constant Contact. Vendors are now able to seamlessly synchronize customers' email addresses into Constant Contact, where there are hundreds of email templates and designs to choose from to help communicate effectively with members.
To set this up:
1. Create a Constant Contact account if you don't already have one (see link above for special CSAware pricing).
2. In your CSAware admin dashboard, go to Settings / Constant Contact, and follow the instructions on the page.
3. Click 'Authorize' and you will be directed to log into your Constant Contact account.
4. Once authorized, click the 'Send all Emails to Constant Contact' button.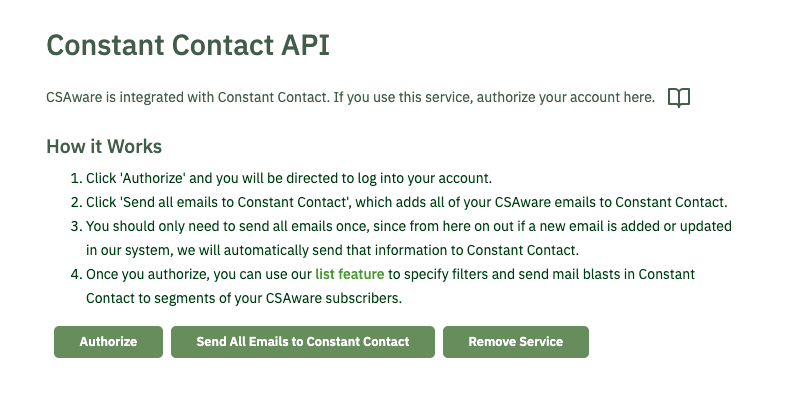 You only need to "Send all Emails" once. Once this feature has been enabled, all customer email addresses added or updated in your CSAware system will be automatically synchronized to your Constant Contact mailing list.
The newest feature allows you to send mail blasts to specific sub-sections of your CSAware subscribers. For example, from the CSAware mail blast page, you can create a specific list of your members, say Tuesday deliveries or Farm Stand drop pick-ups, and send those emails to Constant Contact. From there you can find that specific list in your Constant Contact account and mail blast them from there. The main benefit of this is that you can create more detailed and robust emails and choose from a wide variety of editable templates to communicate to your members however you need.
Here's how it works (must have completed steps above first):
Go to the blast page (Customers & Partners -> Broadcast Email -> Constant Contact). Note: you can only view this page after you have done steps 1 and 2.
Use the filters to choose a sub-section of your subscribers (e.g. Wednesday, Biweekly Vegetable Share holders)
Click 'Create list in Constant Contact'
Look for the code that appears in red text on the CSAware page, then find it again inside your 'lists' in Constant Contact
Create an email in Constant Contact and send it to the list you just created
**Note that lists will only be available for use for a certain period of time. You will have to use the list and send the blast in Constant Contact within 4 hours of creating the list in CSAware. You can recreate lists as many times as needed, but is recommened that you first draft the blast in Constant Contact and then create the list in CSAware once you are about ready to send out the blast.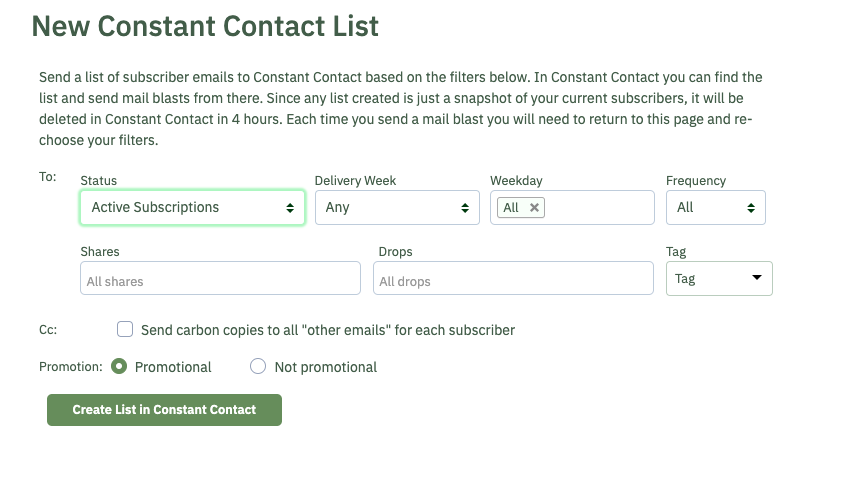 As always, contact your account manager if you have any questions.