Option Settings Shares & Products / Settings / Option Settings
Your Option Settings define the software interface with your CSA members. Your CSAware account manager will walk you through this process upon your initial setup. We are providing some basic information here for reference only, we suggest that you communicate with your account manager directly before making any changes to your option settings.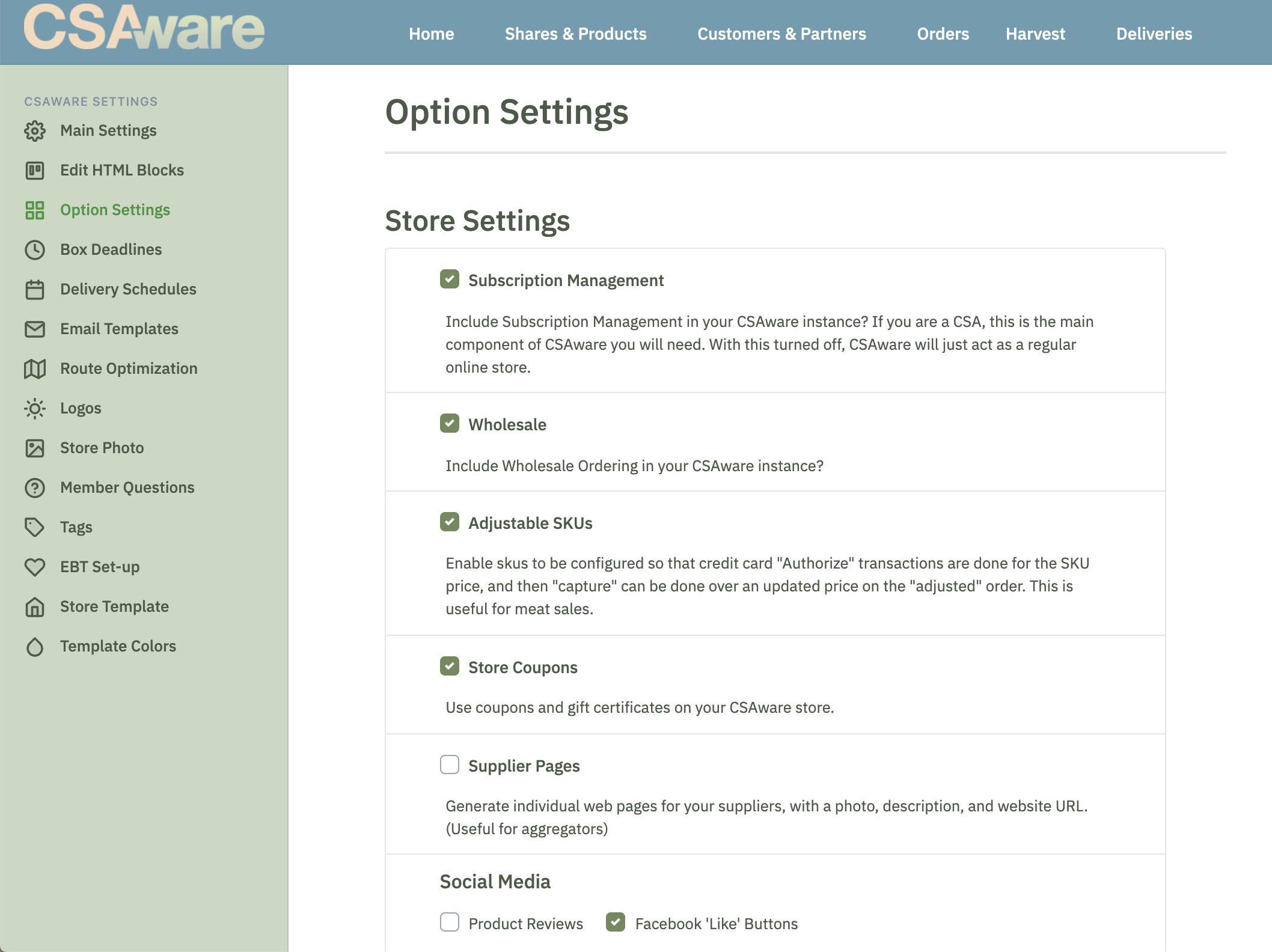 Store Settings:
Subscription Management:

This option is checked by default to run the required software component for CSAs. Unless you are running a unique instance discussed with your CSAware manager, leave this option checked.

Wholesale: To offer wholesale ordering in your CSAware instance, please contact your CSAware manager for more information. In development, we estimate available in Summer 2023.
Adjustable SKUs

: Check this box if you anticipate selling meats or other items on a

price per pound

basis.

Store Coupons:

Check this box if you would like the option to offer coupons or gift certificates in your store.

Supplier Pages:

Check this box if you would like the option to create individual pages for your suppliers.

Social Media:

Here you have the option to include

Product Reviews

where customers can submit product reviews in your CSAware store and Facebook "Like" Buttons. Please note: product reviews can only be removed in rare instances, so please choose this option with caution.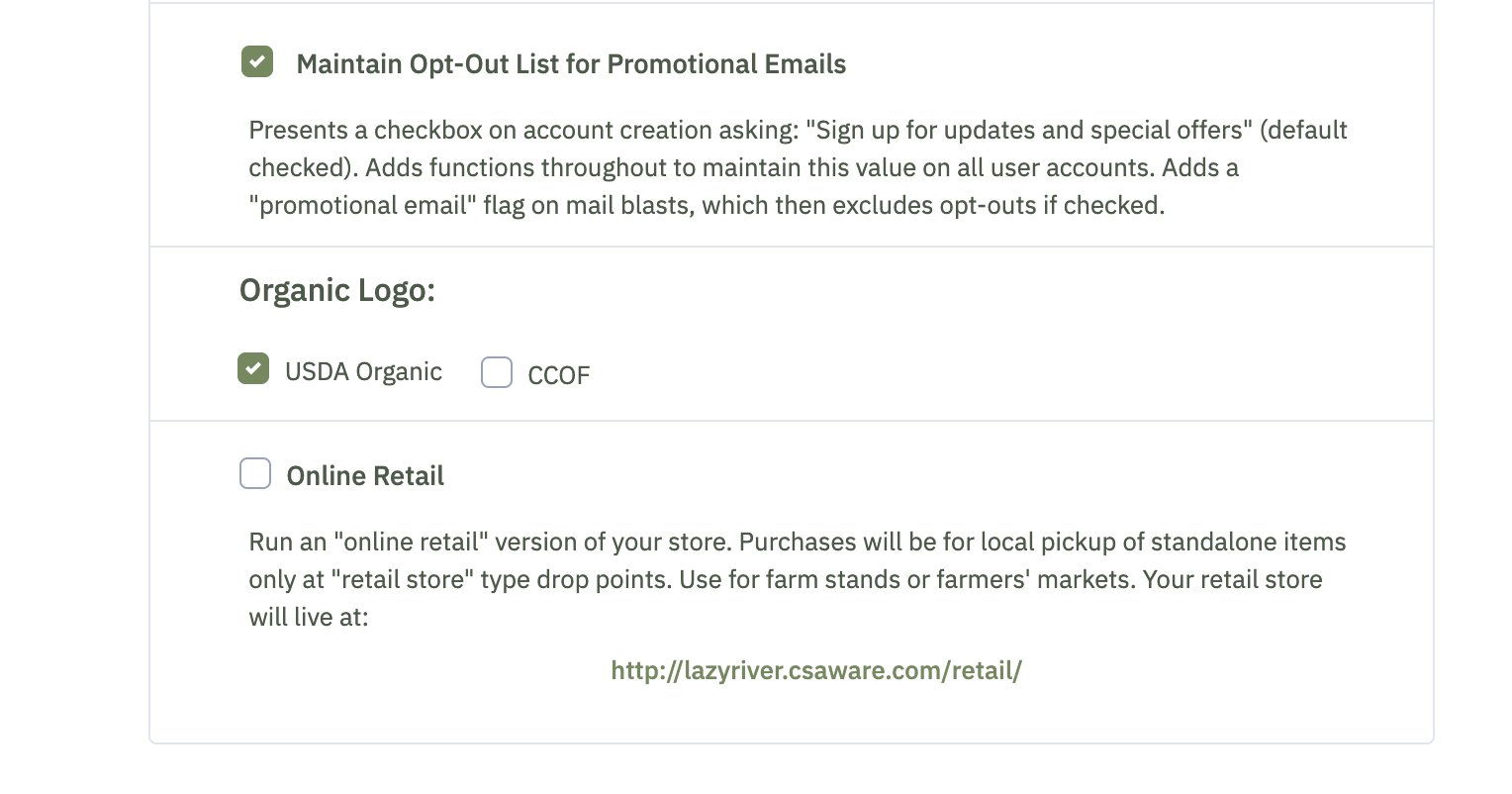 Maintain Op-Out List for Promotional Emails:

This option presents a checkbox on member account creation asking: "Sign up for updates and special offers" (default checked). Adds functions throughout to maintain this value on all user accounts. Adds a "promotional email" flag on mail blasts, which then excludes opt-outs if checked.

Organic Logo:

If your farm is certified organic, please choose your certification here.

Online Retail:

This is an advanced feature and requires special assistance to set up properly. We'd suggest that you talk to CSAware staff before checking this.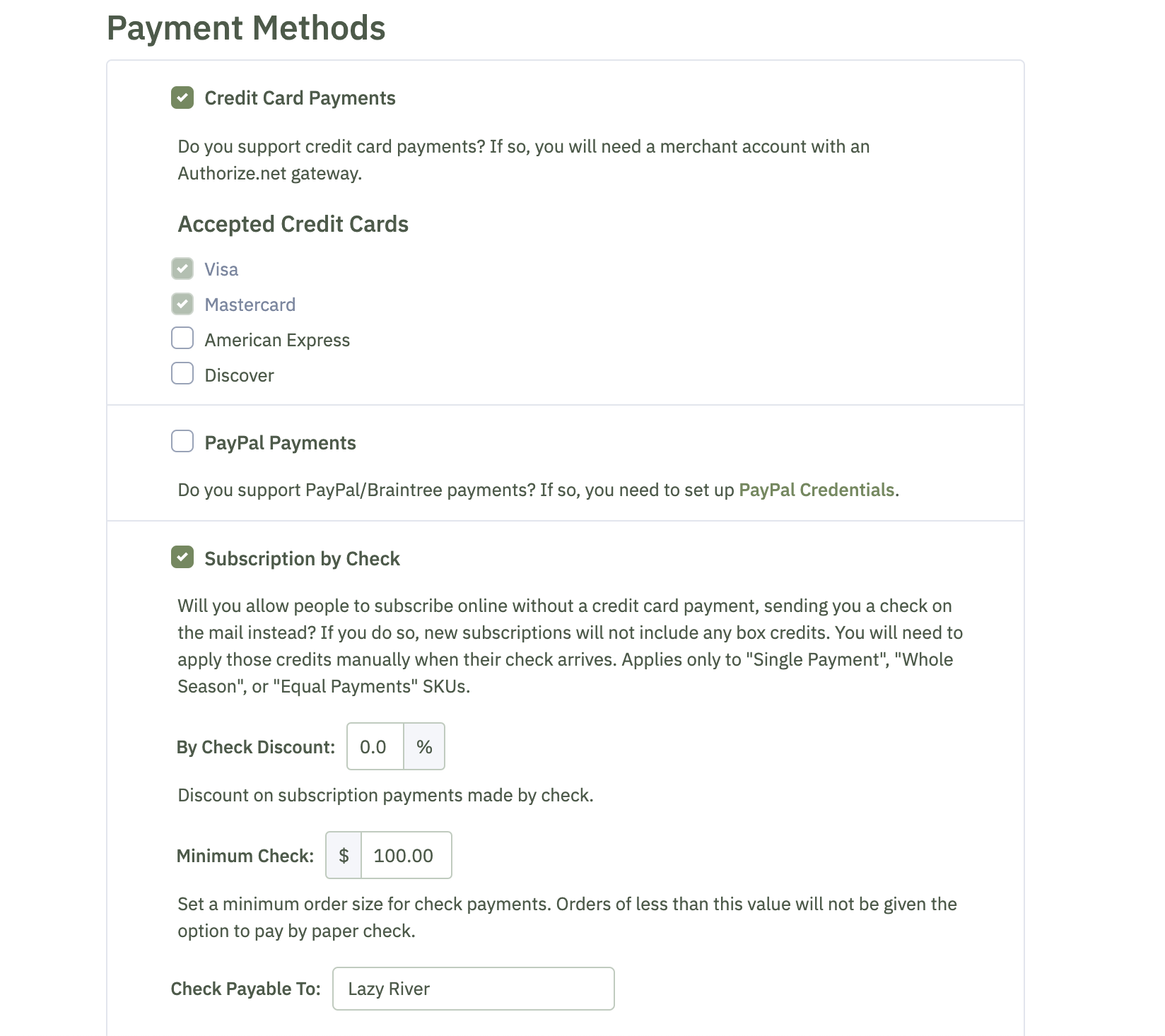 Payment Methods:
Credit Card Payments

: This setting is selected if you accept credit card payments in your CSAware store via a Merchant Services Provider. Please see the article on

Merchant Accounts/PayPal

for more information.

PayPal Payments

: Select this option if you will be accepting PayPal payments in your online store.

Please see the article on

Merchant Accounts/PayPal

for more information.

Subscription by Check:

If you allow members to pay by paper check, select this box. When you select the option to subscribe by check, the box will enlarge to permit you to offer a discount on the subscription payment made by check. Since you will be saving your Merchant Account's service fee for this transaction, you may choose to pass on some or all of these savings to your members (or not).

Note

: If a member is paying by check, their check payment must be received and recorded in the system before delivery credits are assigned. Once the check payment has been entered, CSAware will create the appropriate box credits for this member's account.

To learn more about applying box credits for check payments, see the section here on

Check Payments

.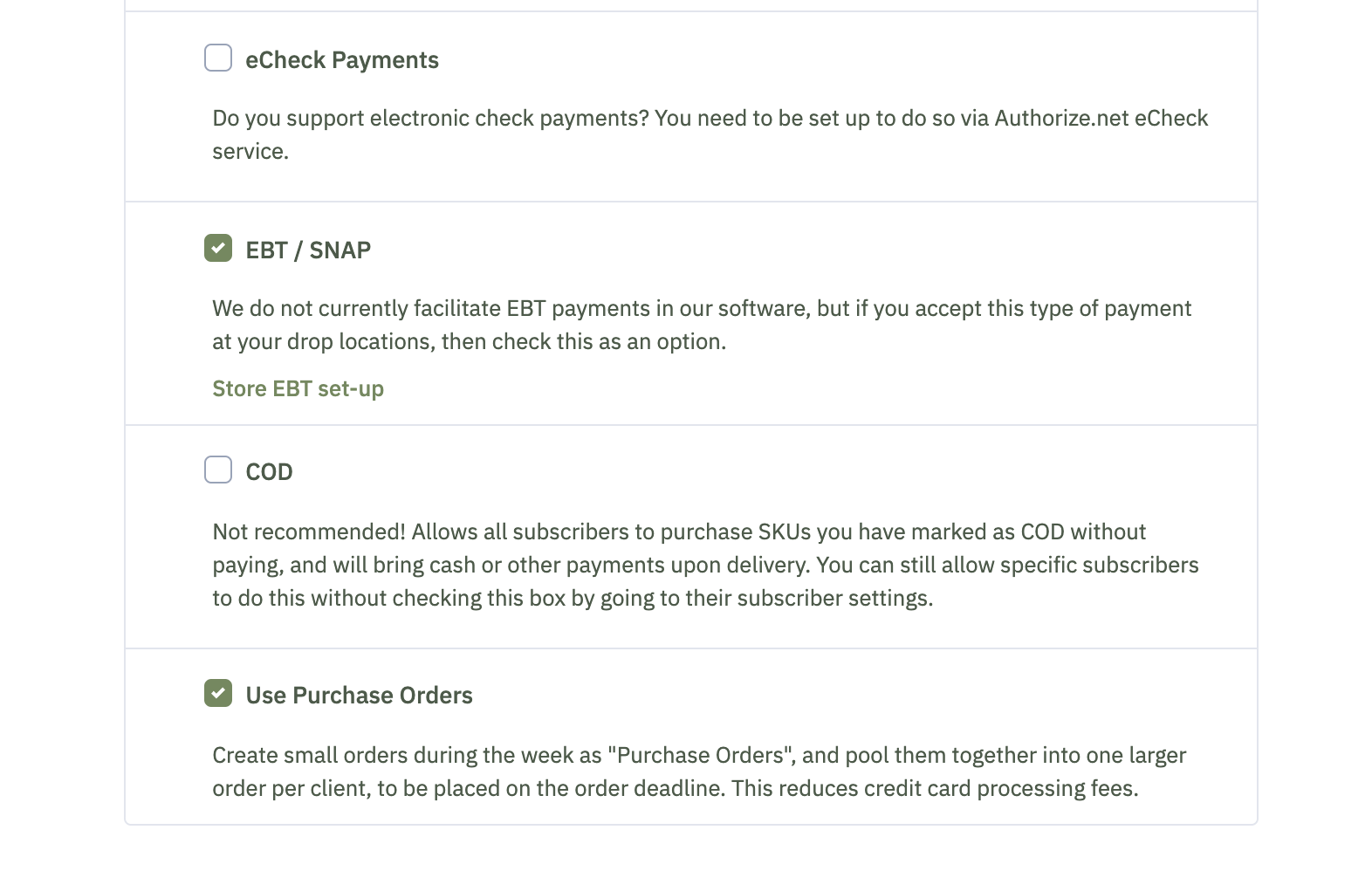 eCheck Payments:

Select this option if you will be accepting electronic check payments in your CSAware store. Not recommended for recurring billing as payment can be processed—OR DECLINED—after delivery has already been made.

EBT/SNAP: Select this option if you accept EBT/SNAP payments at your drop locations.
COD: Select this option if you offer and require COD "Cash on delivery" payments in your software setup.
Use Purchase Orders

: Select this option if you would like to create small orders during the week as "Purchase Orders", and pool them together into one larger order per client, to be placed on the order deadline. This reduces credit card processing fees.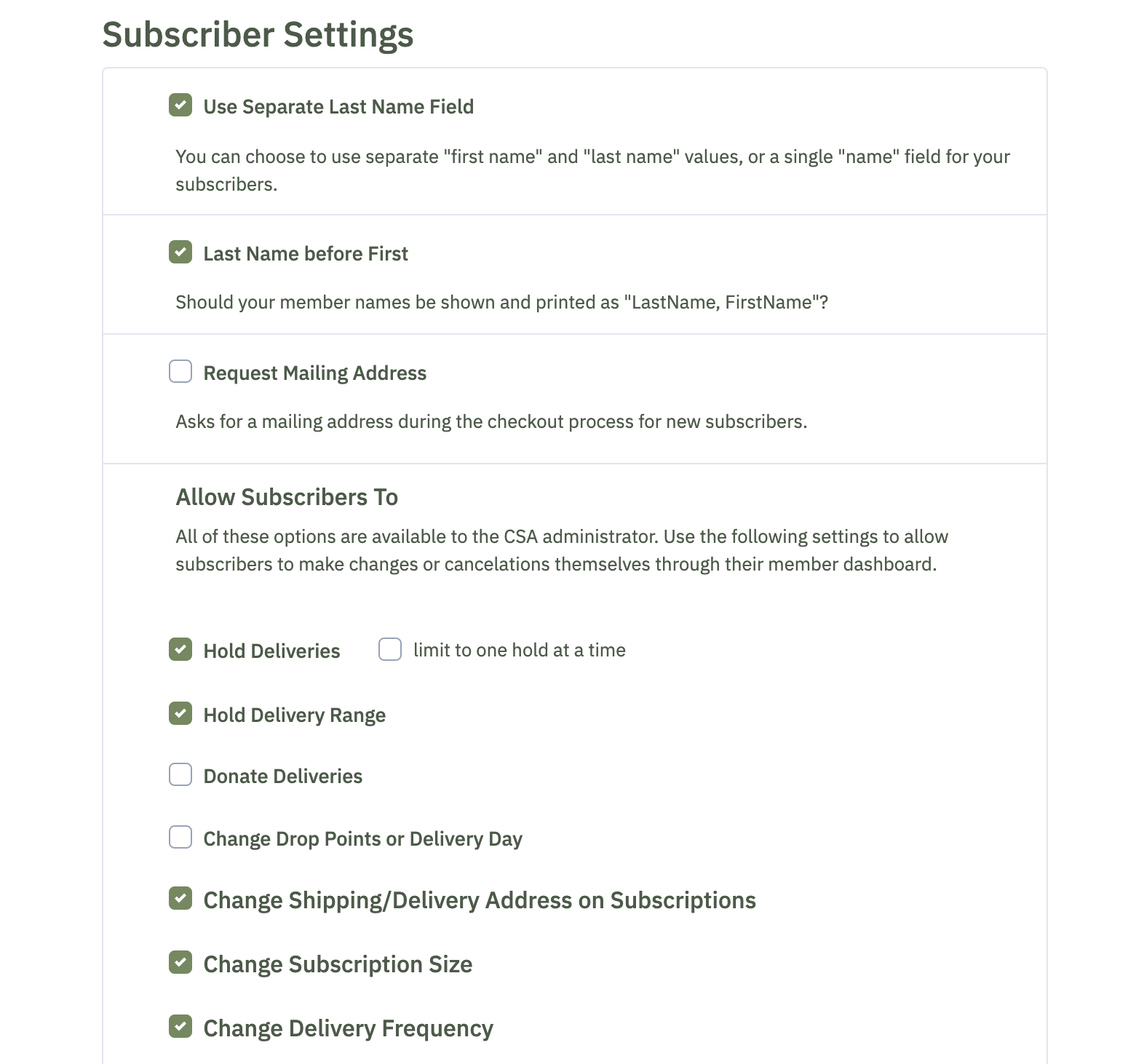 Subscriber Settings:
Use Separate Last Name Field:

If you would prefer to work with your members' names in two fields rather than one, which is the default, you may split them into two fields (first, last) here.

Last Name before First:

This setting gives you the option to have all names listed in the "last name, first name" format, both on the site and in reports.

If you begin using CSAware with a single name field and at a later time decide to switch to using separate first and last name fields, let us know, and we'll run a script to "split" your existing member names into the new format.

Request Mailing Address:

Check this box if you would like to ask your members to provide a mailing address as part of the sign-up process. Remember your credit card paying members are entering their address in the billing set up. Use sparingly, like if many of your members are not paying with credit cards AND you (still) want their mailing address.

Allow Subscribers To

: Several of these settings are pre-checked default settings. These settings allow the member to manage certain changes or cancelations themselves using their member dashboard. Please uncheck any items that do not fit with your farm's policies.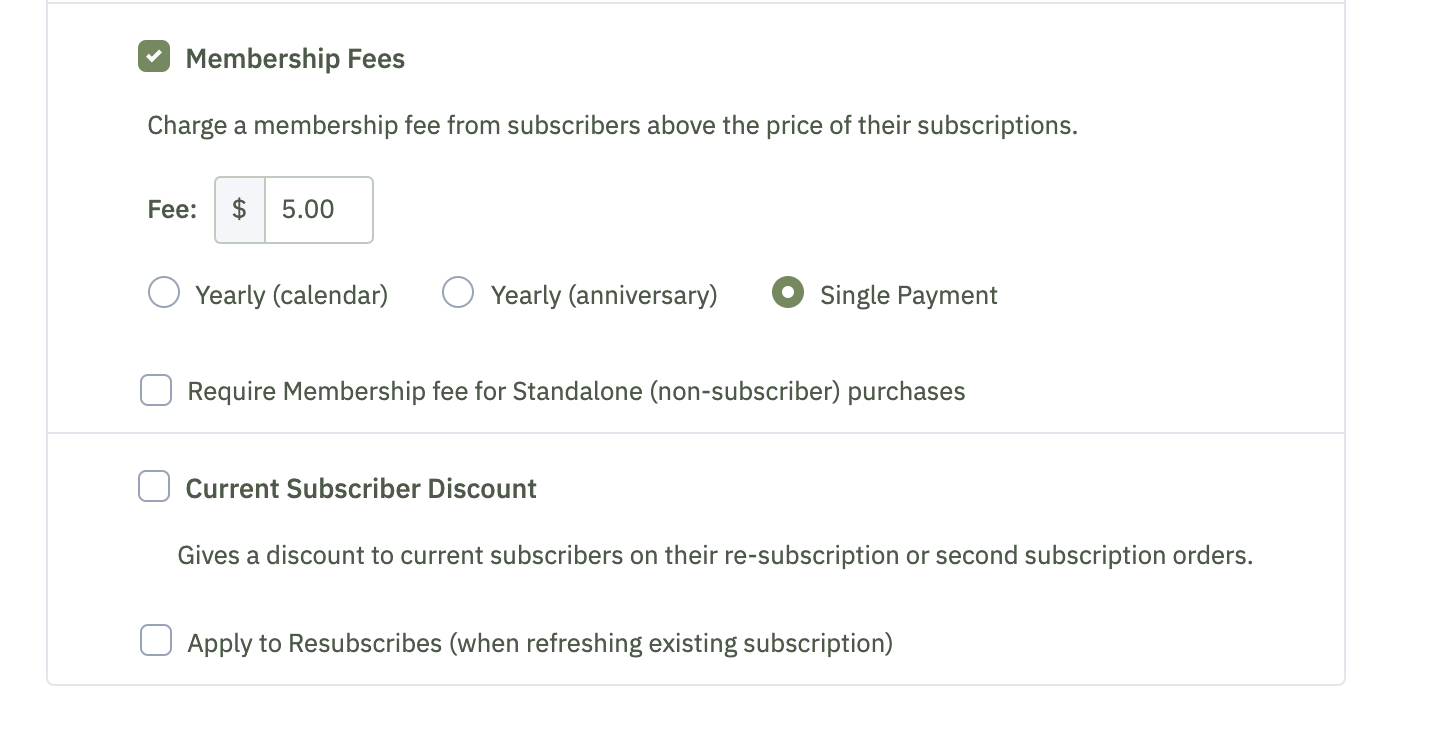 Membership Fees:

If you charge a membership fee for your CSA, check this box. The field will expand to offer you a place to enter the amount of the fee (as depicted). You can set this fee to be charged once per year, or just once at the first time this member receives a delivery. Calendar means everyone charged on first billing on/after Jan 1 every year, Anniversary is as per the member's original sign up.

If your policy requires everyone who wants to buy anything from your business to pay a membership fee, you can also choose to assess this same membership fee for customers who are not members but use CSAware to purchase standalone items. Check the bottom "Require Membership fee for Standalone" box to assess this fee for all customers.

Current Subscriber Discount:

You are able to offer a discount for current subscribers who chose to renew their subscription for the next season. We have seen current subscriber discounts that range from 3% to 5%.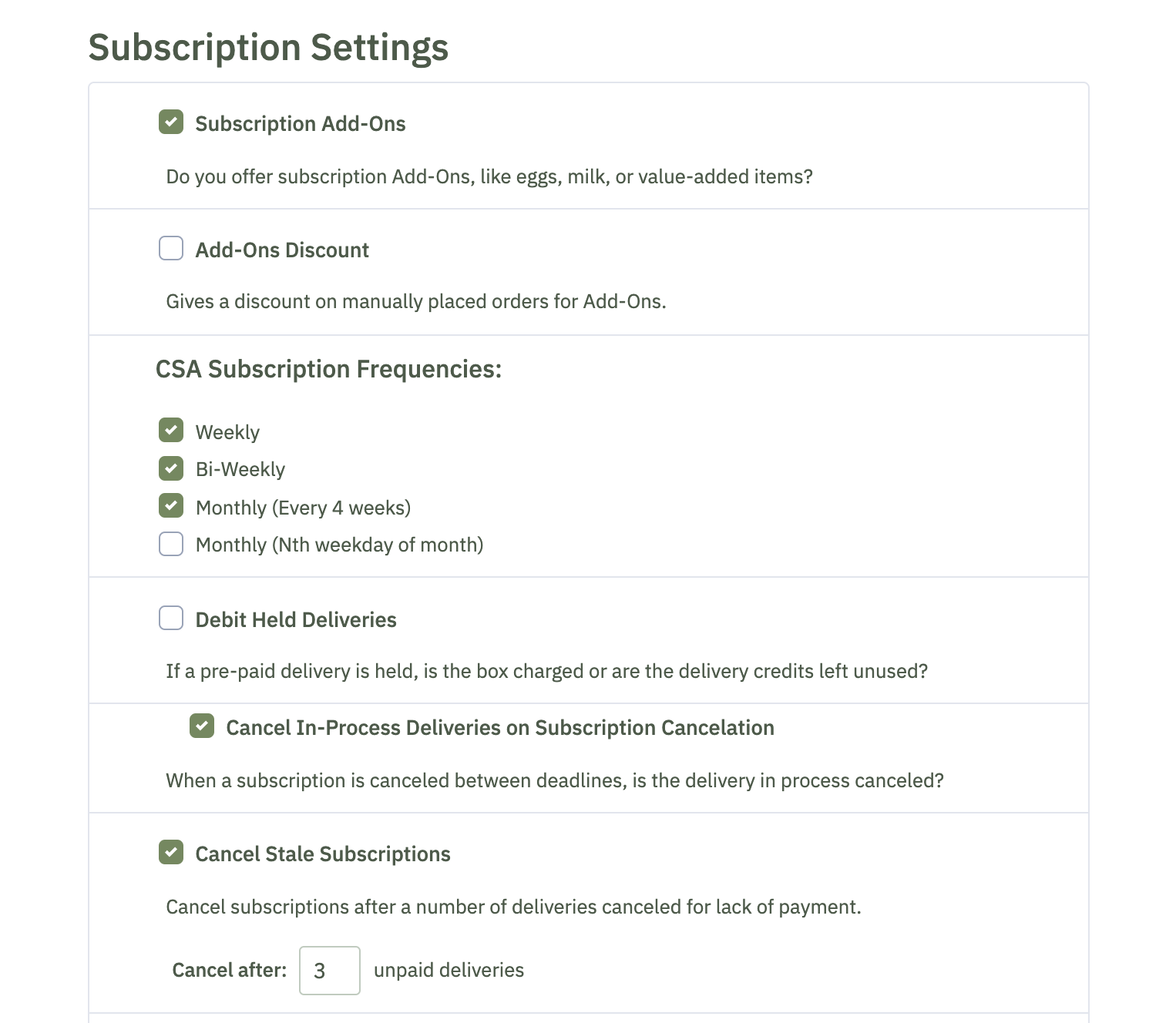 Subscription Settings:
Subscription Add-Ons:

Select this box if your store will be offering add-on subscriptions such as eggs or milk.

Add-Ons Discount:

Select this box if you would like to offer an add-on discount.

CSA Subscription Frequencies:

In this field you are choosing the different subscription frequencies that will be presented to you by CSAware when you create a new share. Here in the Settings, you can either select only those you know you will definitely use, or check all the options knowing that you can pare down the list to only the relevant options when you create the product listing for a new share.

Debit Held Deliveries:

Select this option if your store chooses to charge members for held box deliveries.

Cancel In-Process Deliveries on Subscription Cancellation:

Select this option if you would like to cancel in-process deliveries when a subscription is cancelled.

Cancel Stale Subscriptions:

If you offer subscriptions that expire (e.g. members pay for 4 or 12 boxes at a time and then renew), some members may decide not to continue receiving boxes, but their subscriptions will remain "active" in CSAware even after their box credits run out. These are not canceled automatically to give you the option of calling the member to remind them to renew. (The system does send each member one email reminder.)

Eventually canceling these subscriptions is important because they are counted as "active" until they are canceled, so your statistics will be off until they are canceled

. You can always do it manually, but this checking the box by this setting tells the software to automatically cancel these expired subscriptions after a given number of weeks.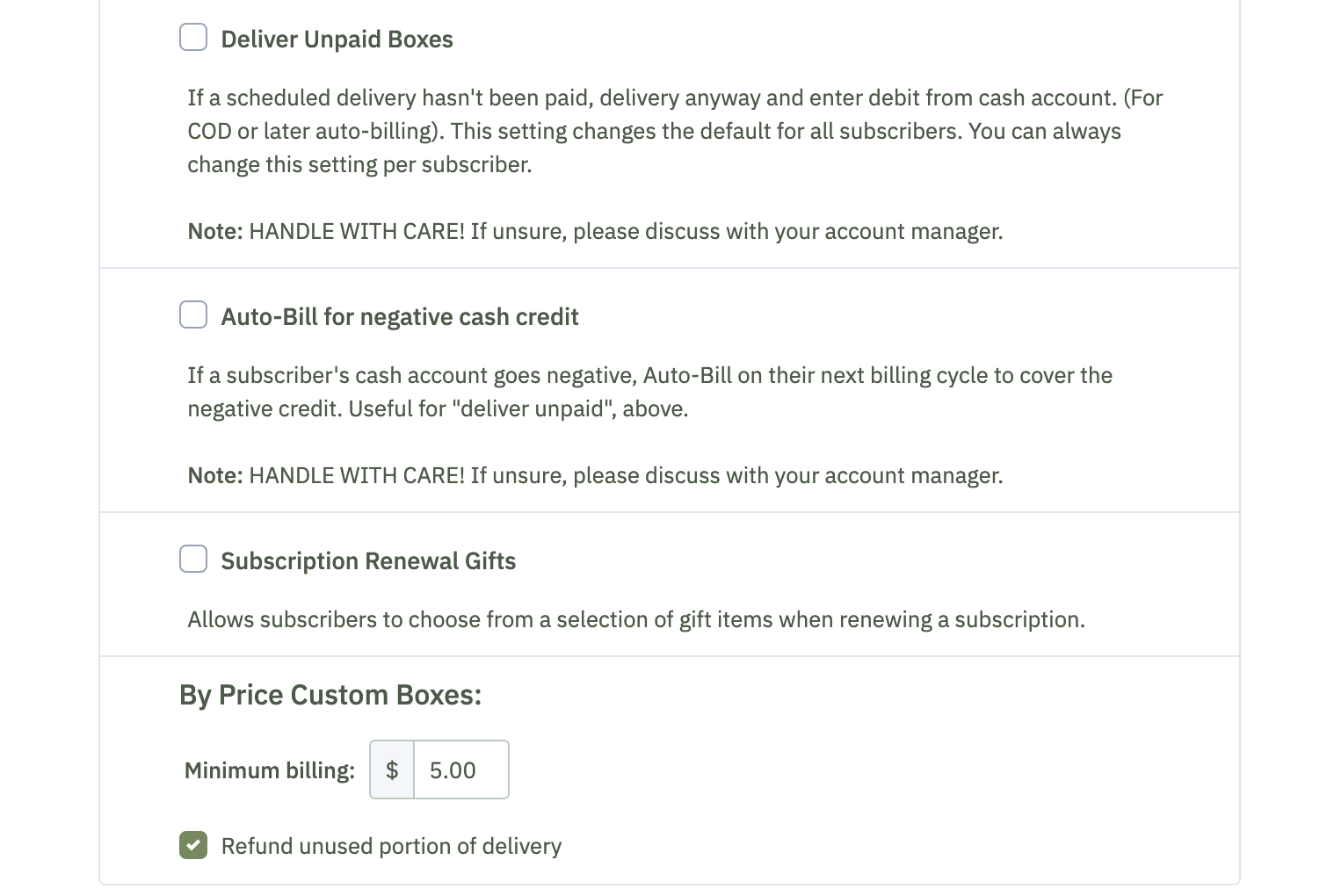 Deliver unpaid boxes:

By checking this box you allow unpaid scheduled deliveries to be delivered and enter debit from cash account (for EBT or COD or later auto-billing). Please note that this setting changes the default for all subscribers. Please handle with care and discuss with your account manager before selecting this option.

Auto-Bill for negative cash credit:

If a subscriber's cash account goes negative, this option Auto-Bills on their next billing cycle to cover the negative credit. Useful for "deliver unpaid," above.

Subscription Renewal Gifts:

This option gives subscribers a choice from a selection of gift items when renewing a subscription.

By Price Custom Boxes:

This section is for stores offering custom boxes by-price. Your minimum billing amount can be set here, along with the option to refund the difference.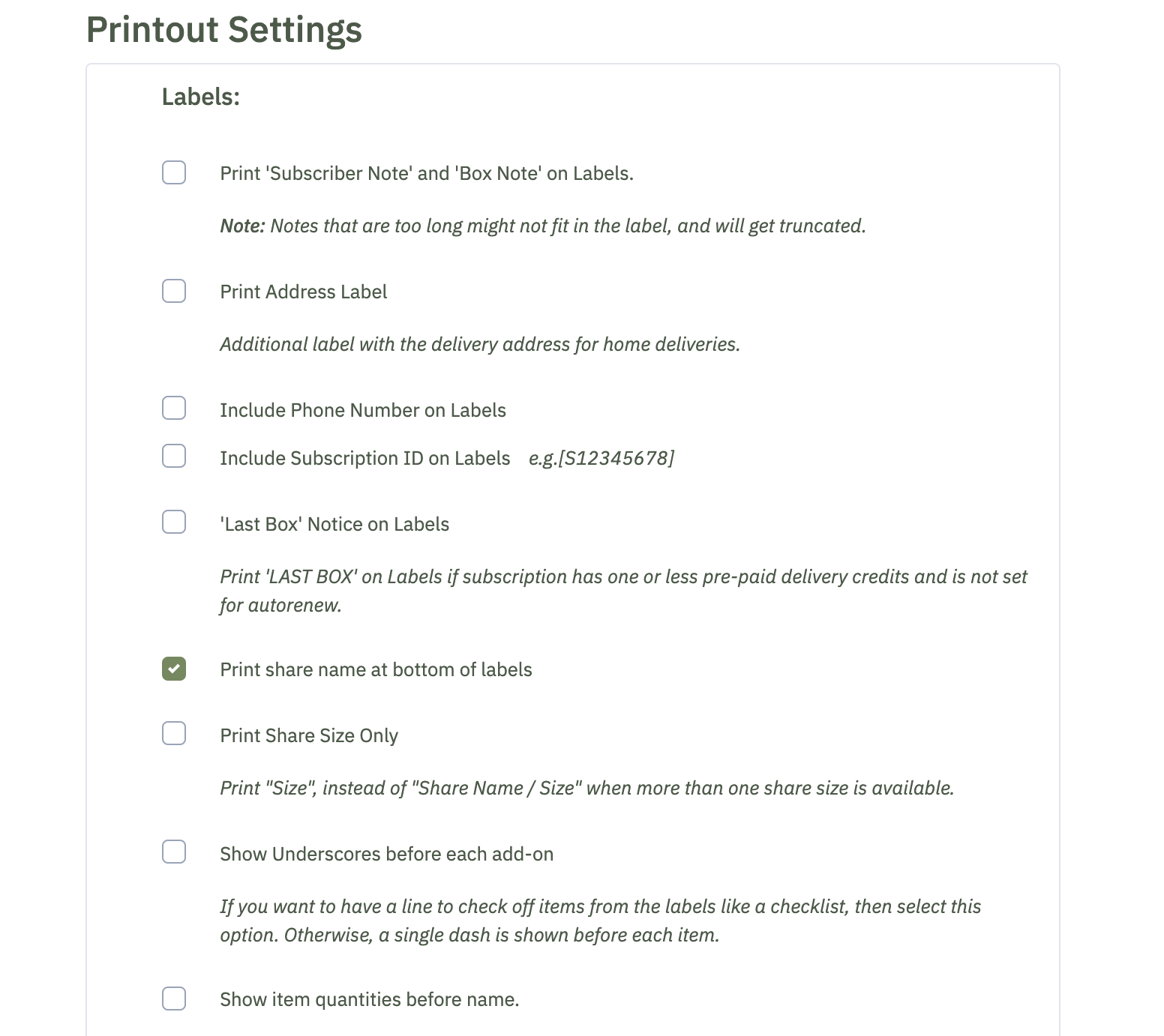 Printout Settings:
Labels

: For assistance with deliveries, the farmer will typically use box labels, sign-in sheets, or both. If you choose to use labels, you can select to print the "Subscriber Note" (such as, "No Peanuts") directly on the label for that member's delivery, using the first check box. If you'd like to remind the member that their subscription is ending, the software can print a "Last Box" notice on the member's label. The notice will actually appear twice, once as a reminder on the week before the subscription ends, and a second and last time on the week the subscription delivery stops. Depending on the label stock you choose to use in your printer, you can select the larger label (3 1/3" x 4" labels, 6 labels/page) or smaller label (3 column format, 2" x 4" labels, 10 labels per page).

Sign-In Sheets

: The majority of CSAware farmers choose to use sign-in sheets over labels. The three default settings which are checked on the printed example include the phone number, the box and add- on counts, and the Instruction information. The sign-in sheet can include columns for additional information such as "Returned Box" or "Returned Jar/Container." Based on your printer capability, you can select the font size in which your sign-in sheets will be printed. The "Standard" font provides about 15 to 20 sign-in lines per page. The "Small" font option provides about 30 lines per page, while the "Tiny" option prints about 50 sign-in lines per page, which may be difficult to read easily.

Packing Lists:

Packing lists can be especially useful for packing custom boxes. If you use packing lists and require alternate alignment for custom box items, you can make that change here. You also have the option to sort your CSV records by box or subscription if needed.

Packing Slips:

Some farms choose to include packing slips inside each box and may also use these for packing purposes.. These can be particularly useful for custom boxes and boxes with multiple add-on items. You have the option here to print the quantity of each item in a separate left-hand column and the option to include supplier names if necessary.
And you're done! Please make sure to "Save Changes" before moving on from this section.