Before you begin working with the software, it will be helpful to know how the system is organized.
The Tool Bar: At the top of your CSAware screen, you will find a two-level navigation menu. The top dark brown toolbar is called the "function" toolbar. Here you will see the major software functions including shares, customers, orders, harvest, deliveries, and reports. As you select one of the function tabs, it will change to a light brown color, and the second line, the green tool bar, will display "department" level tasks specific to the function you've selected. Similarly, as you select various links in the green tool bar, the green tab will change color, and the text will change from white to black to indicate the menu item you've selected. A third navigation area for specific actions within this department will appear as a brown sidebar in the left-hand margin.
Please note: We use the following convention to describe how to navigate to a given page in the software. First click on a particular link in the dark brown navigation bar / then a link in the green navigation bar / then in the brown sidebar. Directions to the example below would be written like this:
Shares & Products / CSA Shares / Add Share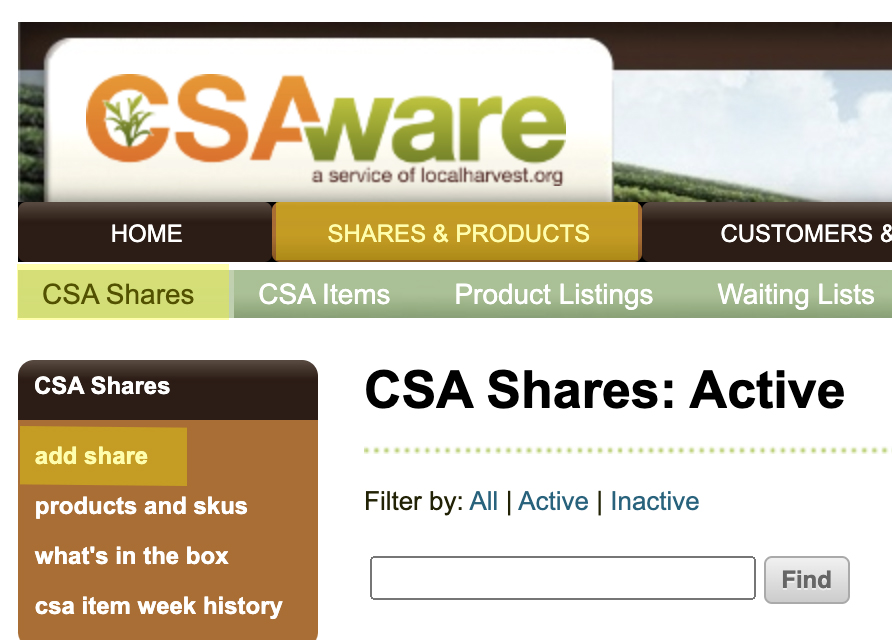 The Search Bar: Keyword search is available at the top right-hand corner of your screen. After you have selected one of the four choices from the left-hand drop-down menu, simply enter your specific keyword in the right-hand box and click the "Go" button.
Activity "time out": For security purposes, if you do not enter information or interact with the CSAware system for 15 minutes, your internet connection will "time out" and disconnect. When you log back in, you'll be taken to your most recent activity screen.