Deliveries / Drop Off Sites / Add Drop
Entering or modifying your drop point information is a simple process to do directly in CSAware. For your initial CSA setup, though, you may wish to save data entry time by having the drop site information found in your LocalHarvest listing transferred to CSAware. If that is your choice, just let us know and we will take care of it for you. If you do not have a LocalHarvest listing yet, or the drop site information is not up to date, you may also enter your drop point information into an Excel spreadsheet and send the file to CSAware for uploading. This Excel option might be a valuable alternative to entering each one individually if you have more than 20 drop sites. The other option is to enter your drop information manually in CSAware.
On your initial setup screen, item #2 allows you to click on the words "a spreadsheet" to open an Excel template for entering a large volume of drop sites. You can also opt to add your drop points individually by clicking on the words "Enter Your Drop Points". Note: if you are considering using the Excel template, you must choose the spreadsheet option first; after you begin entering the data manually, the Excel spreadsheet option is no longer available.
If you choose to enter the drop site information individually, you will see the following screen: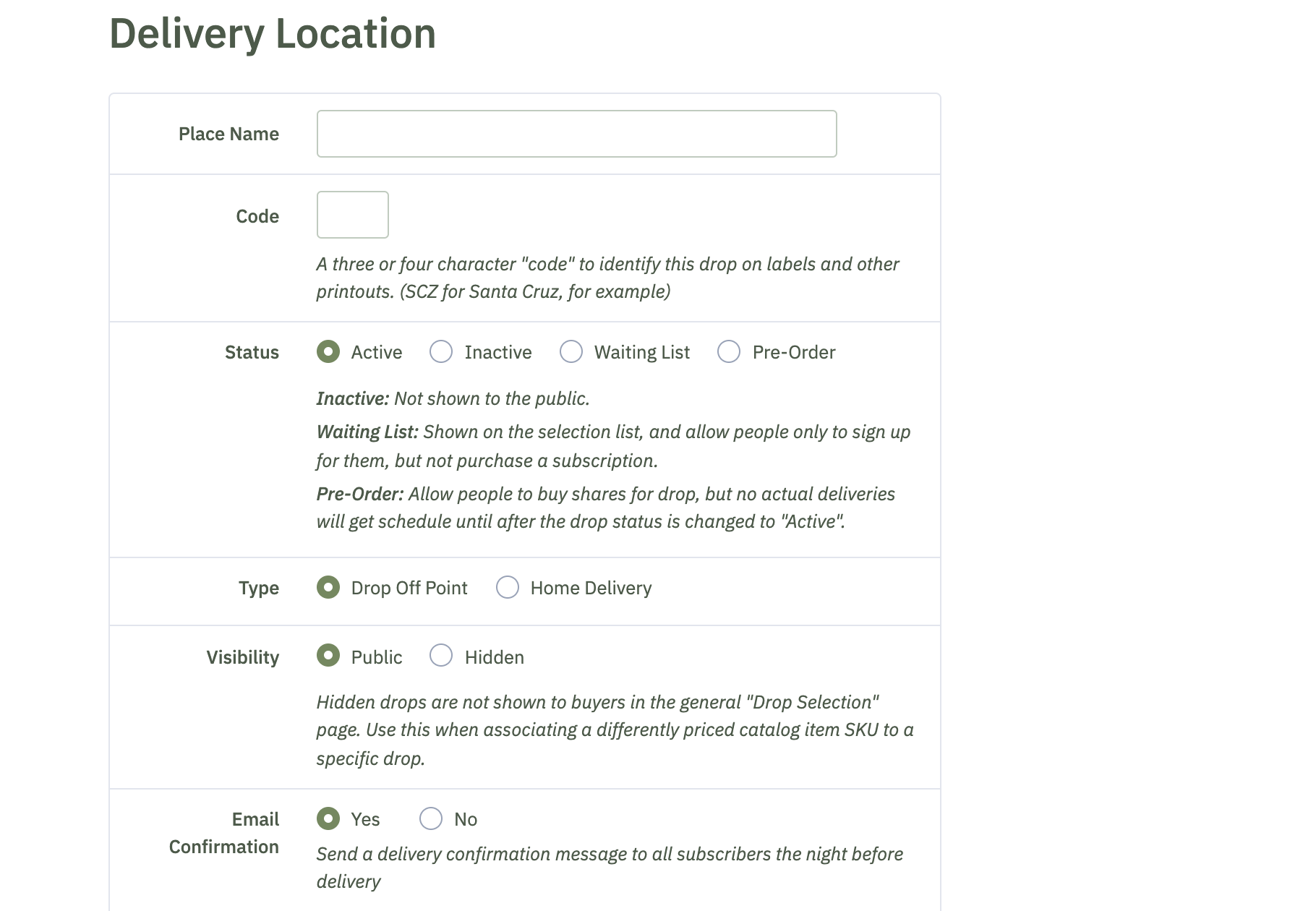 Place Name

: Typically, you would name the drop off point by its city and a nearby business, such as "Santa Rosa, Farmer's Market." For a private residence, avoid naming an address, but instead identify the neighborhood. An example would be "Santa Rosa by 5

th

Street & Vine Avenue."

Code

: This is an optional field, since both the Place Name and the Code will be printed on labels and signup sheets.

Status

: Most will choose "Active," unless you wish to not display the location so it will be hidden from the search engine. The "Waiting List" status can be used by the farmer to gauge interest in locating a new drop site. A member who chooses to identify themselves with a "Waiting List" drop site, will, of course, not get any delivery, but will have their name placed in a queue so that if that drop site becomes active, they'll receive an email notification of the new site. At the time of order, they will be asked to choose an available drop site instead. Farms also use the Waitlist status to disallow additional sign ups for a full site. Pre-order allows you to collect payment for future-scheduled deliveries. Use this status carefully, if at all.

Type

: Choose either a "Drop Off Point," or "Home Delivery." For the "Home Delivery" option, name the home delivery area accordingly. For example: "Tuesday's route: West Chester, East Union, & Southport."

Visibility

: The "Hidden" drop option is used only when you have certain drop sites that should not be visible to the general public. Most commonly, this drop will be associated with a specific product SKU.

Email Confirmation

: Choose either "Yes" or "No" to send out an automated delivery confirmation to customers.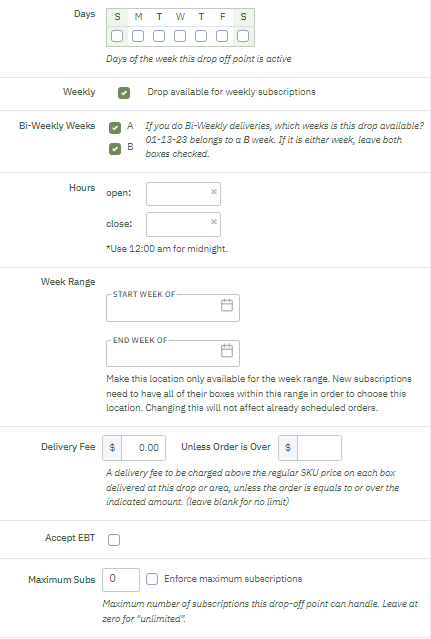 Days

: You need to identify a minimum of one day of the week when this site will receive deliveries. If you identify more than one day for this site, the member will be given the choice of which day (or days) they will pick up products from that location.

Weekly:

This box will be checked by default. Uncheck this box if your drop site is bi-weekly only (every other week).

Biweekly

: If your farm has Biweekly delivery, member boxes are assigned to Week A or Week B at the time of purchase. (Note: "Week A" indicates all

odd

weeks of the year, while "Week B" means all

even

weeks of the year. The software keeps track of this.) The default for Biweekly is that both A and B are checked, which means that a member who signs up for biweekly delivery, will be added to the next possible delivery, which could be Week A or Week B, based on the date of the order. This assumes that you deliver to all drop off sites on all weeks. If you only deliver to this site on alternate weeks, choose the appropriate box for deliveries on either Week A or Week B.

If both weeks are checked, and a member needs to switch weeks from the assigned rotation week, they may notify you, and you can administratively flip the delivery weeks for the member. If you only check Week A OR Week B, then all biweekly deliveries will ONLY be available to those members on alternate weeks.
Hours

: Select the opening and closing hours for this site, if applicable.

Week Range: Make this location only available for the week range. New subscriptions need to have all of their boxes within this range in order to choose this location. Changing this will not affect already scheduled orders. For example, have some drops available for summer but not winter? Enter in the drop's availability dates to restrict drop selection upon ordering. "Unless order is over" section is used if a delivery fee is to be charged above the regular SKU price on each box delivered at this drop or area, unless the order is equals to or over the indicated amount. (leave blank for no limit).
Delivery Fee

: If applicable, this is the cost per box that is added to the box price. If the member is billed weekly, the delivery fee will be added weekly. If the member is paying Whole Season, the software will calculate the total delivery price for the season, by multiplying the number of deliveries by the delivery fee. For members paying in installments, the software will calculate the total delivery fee and divide it evenly into the number of payments the member will be paying.

Maximum Boxes

: For "unlimited" site capacity, leave the setting at "0." If there are size or space limitations at the site, such as at a private residence, identify the maximum number of boxes that can be delivered to that location in a single delivery. CSAware will not close the site when the maximum number is reached, but it will tally so you can view easily.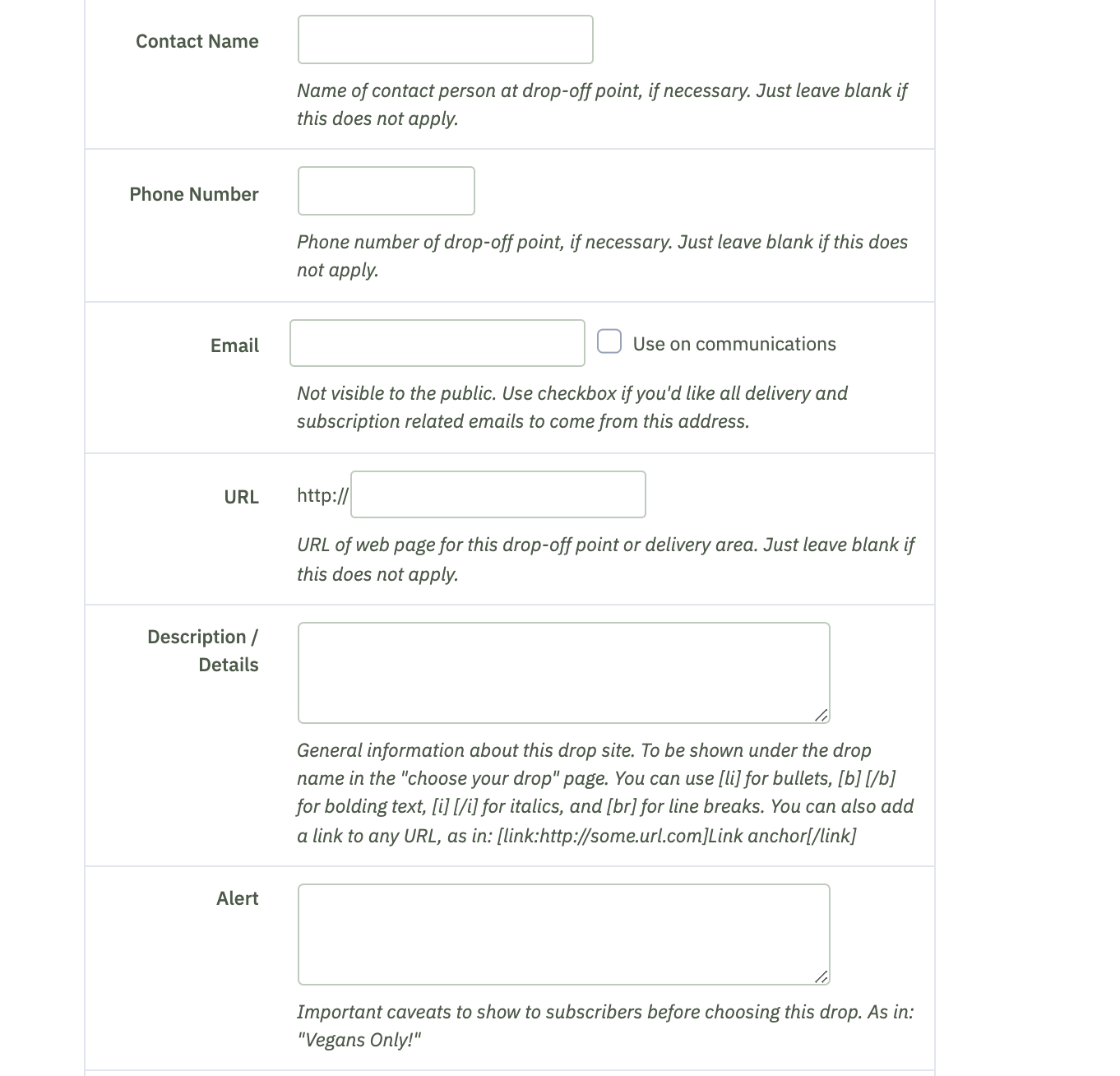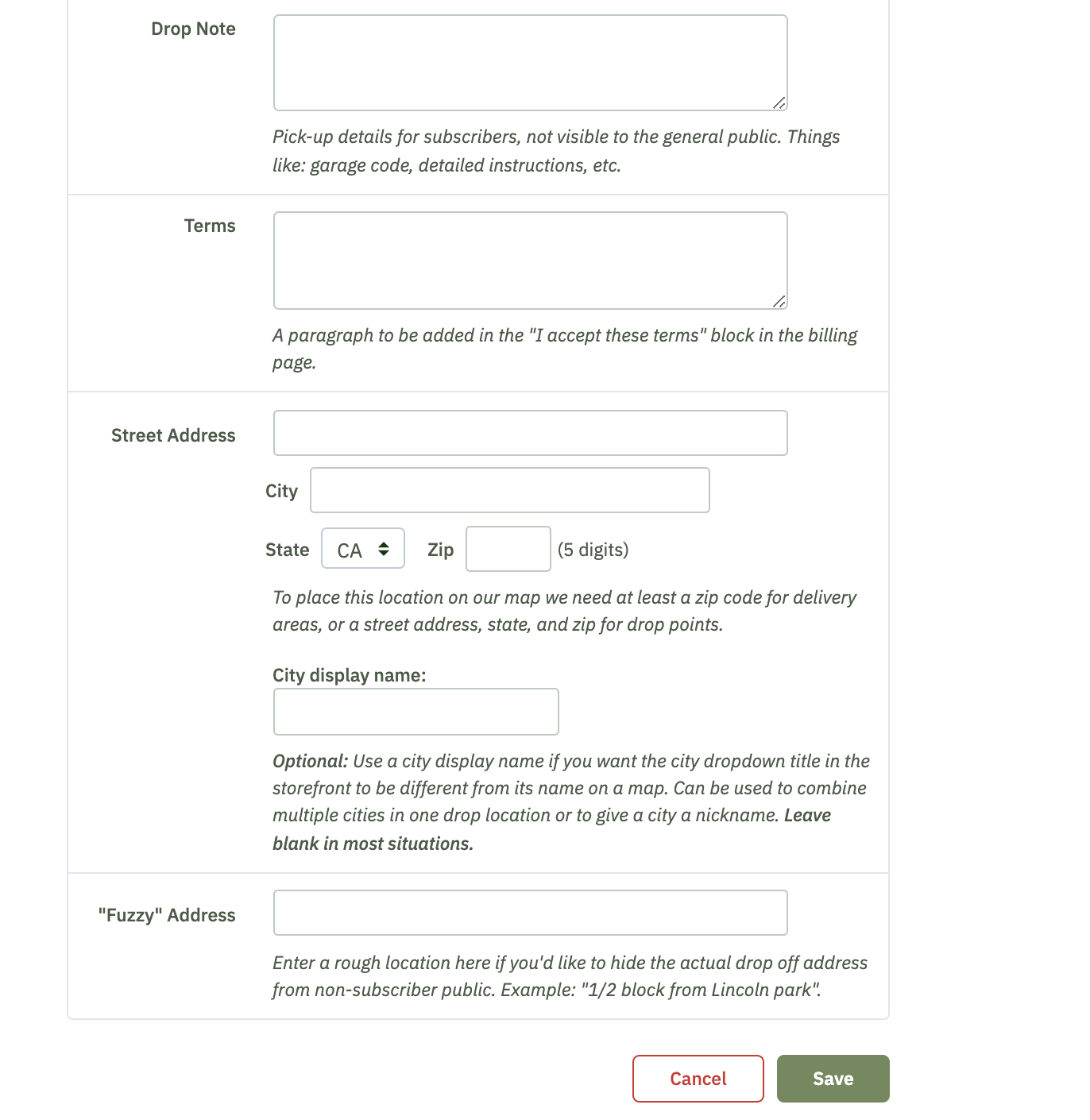 Contact Name, Phone Number, URL, Description/Details

: There may be privacy concerns with these fields, so please note that these items will be visible to the public at all times, unless you have provided a Fuzzy Address (below) in which case the fuzzy address will be shown to people until they have signed up for a particular site, after which they will see the actual physical address. If you wish to keep the contact name and phone number private, include them in the "subscriber notes" field below, rather than in these fields. Anything in the "subscriber notes" field will be shown only to people who have signed up for a particular drop off site.

Description / Details

: This is where you note public information about the site. (e.g. "Has stairs." "Enter through the back door of the yoga center.")

Alerts:

Important caveats that subscribers are made aware of before signing up to a particular drop site.

Drop Note

: This is the location for any pick-up details that

should only be available to members using this location,

but not available to the general public.

Terms:

This is a paragraph that can be included in your billing and confirmation page.

Street Address

: We use Google Maps for mapping delivery site options and for locating specific delivery sites. Entering the street address of the drop off site will put this site on a Google map. This feature is not available for home delivery routes.

"Fuzzy" Address

: For privacy reasons, you may not wish to make the exact drop-off address publicly available. You may, instead, provide a nearby intersection or block ("on the 600 block of Main Street.") This address will be shown to non-members browsing your catalog. Once a person has signed up for a particular site, the software will give them the full address you provided in the street address field.

City, State, and Zip Code

: You must enter at least the Zip Code of the drop off site. The Google map application will place a marker in the geographic middle of that Zip Code area.
Important note: We suggest that you look over the information you have entered before making it available to the public. To do so, go to Deliveries / Drop Off Sites / Public Page to see the list of your pick-up locations, from which members will choose as part of their subscription process, as shown below:
Then please go to Deliveries / Drop Off Sites and click on the globe icon next to each drop off site, so you can see the detailed information about the site that members will be able to see after they have signed up (as shown below). As needed, you can go back and make any changes or corrections before releasing this information to the public.