Creating a Harvest list for your fieldworkers, your pack house, or to inform your members of their box contents for the week is done in Harvest / What's in the Box.
But first, you need to add CSA Box Items. Building a box is not necessary for Empty Box shares, optional for Fixed Selection shares, and mandatory for Custom shares.
From the What's In The Box page select the share, then the items including a count and dates available for that week. When finished Save Changes and Publish.
Please note that CSA Items can be copied from the previous week's What's In The Box list and then edited for the current week's harvest availability.
CSA item descriptions can now be published week to week. First you will have to click on the share you are wanting to publish the week's contents for, then it will bring you to this page: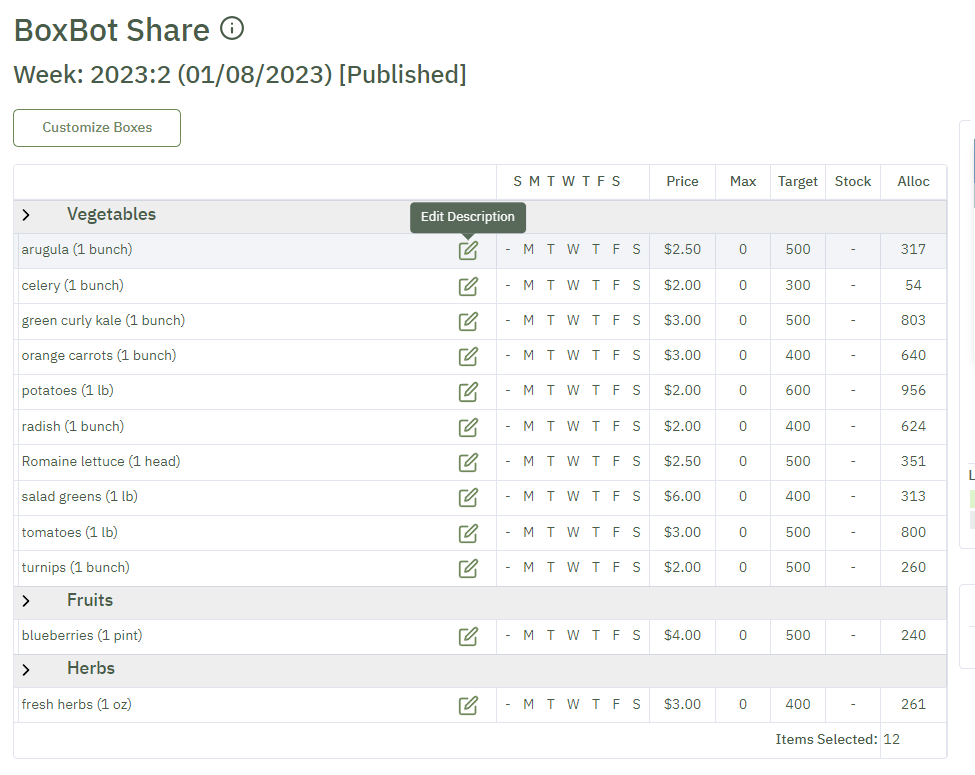 From there you can click on the pen and paper icon to edit the item description for this particular harvest. If you do not edit the description here, then it will default to the over arching CSA Item description found in the CSA Items page (Shares and Products / CSA Items). This new description will 'stick', meaning if you are on week 20 and you would like to go back an reference what you posted on week 1, both you and your members can! This is useful for posting week-specific recipes or details about the harvested items.
The price memo is useful for giving brief information about the overarching harvest for the week. It is shown as a tool tip near the price of the member's boxes when customizing their delivery. Use this to explain larger deviations between the share size value and the box value